Six reasons to volunteer at Whiteman Park
10 May 2023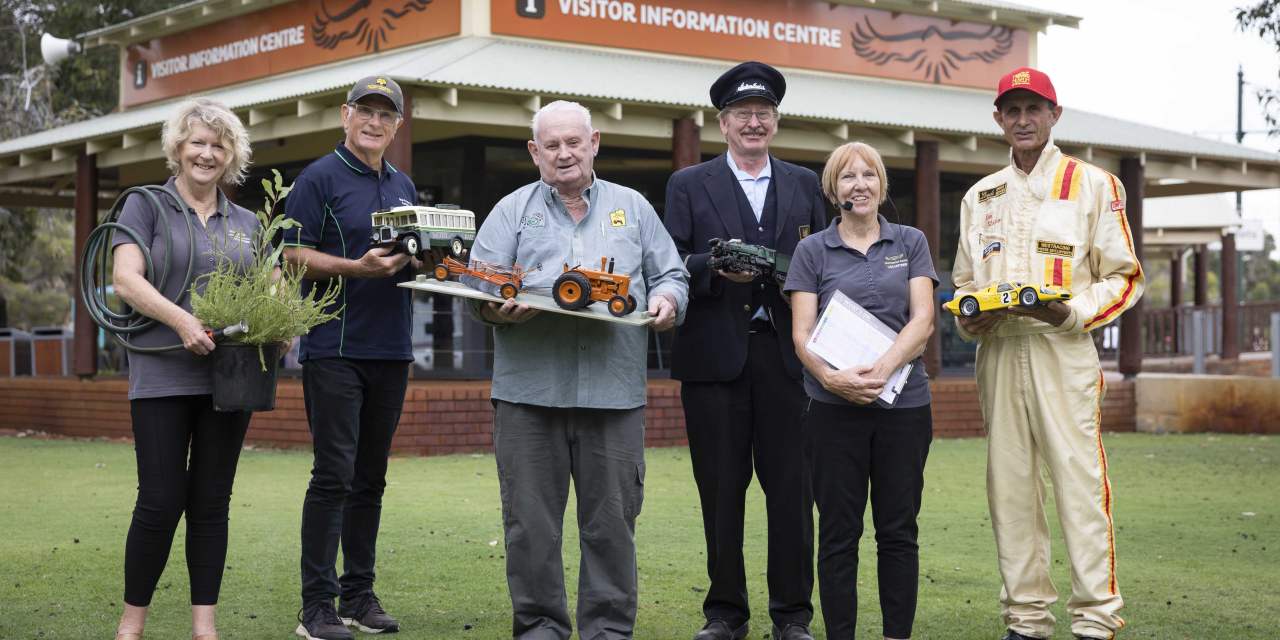 Whiteman Park relies on a highly valued group of volunteers. In fact, they are the heart of Whiteman Park, with over 600 volunteers giving their time to support and operate our various attractions.
Through seven different organisations, the Park offers an amazing range of volunteering roles and opportunities, meaning there is a role that suits just about everyone!
This National Volunteer Week, we're recognising the amazing work our volunteers do and sharing six great reasons why you should consider volunteering at Whiteman Park, where transport heritage meets natural bushland.
1. Meet people
Whether its greeting visitors and helping them to plan their day or connecting with fellow volunteers who share the same interests and passions as you, meeting new people is at the top of our list of why you should consider volunteering at Whiteman Park!
2. Join a winning team
Whiteman Park is all about conservation – both environmental and transport heritage conservation – and our volunteers, just like our staff, are highly motivated to make Whiteman Park the best attraction possible. With so many like-minded people, it makes for a great experience and you'll love spending your days here.
3. Feel good
New skills. New friends. A reason to get out into the community.
Volunteering is a fulfilling venture as it gets you up and moving, as well as keeping you connected to the wider community. One of the biggest rewards though, is that it makes you feel good mentally and physically. And that is before you add in the fact that you would be volunteering amongst the Park's natural bushland! Whiteman Park is an oasis amongst the hustle and bustle of modern life, allowing you the chance to connect to nature in a relaxed way.
4. Find purpose
Becoming part of something where you are connected to others is one way to help you find purpose in your life. And with seven organisations offering volunteer roles in Whiteman Park, you will be connected twice-over, both as an active member of your chosen organisation AND as a member of Whiteman Park's volunteer community!
5. Make a difference
Many of the Park's attractions are operated solely by volunteer-run organisations. They not only help to preserve objects from the past, ensuring they are around for future generations to see and experience for themselves, but they do so entirely through donated time. In our view, this means your volunteer time has double the impact.
Our environmental volunteers are just as important though, as they work towards increasing the Park's already high biodiversity values through habitat restoration and fauna care.
6. Help others
Making our visitor's day. Sharing your hard-earned knowledge and skills.
Volunteering here at Whiteman Park gives ample opportunities to help other people, whether they a fellow volunteer or Park visitor. And not only can you make their day by helping them, you get to and enjoy the positivity it brings to your life!
Ready to find out more?
Whether you are a transport heritage enthusiast, nature-lover, or just like meeting and greeting people, the Park offers a vast range of volunteering opportunities, whatever your passion. Most importantly though, it's fun!
So, who can you volunteer with?
Bus Preservation Society
Caversham Wildlife Park
Motor Museum of WA
Tractor Museum of WA
Western Australian Light Railway Preservation Association
Whiteman Park Volunteers
If this all sounds good, get in touch with our Volunteer Coordinator to find a volunteering opportunity that suits you.