Why not pack a picnic and plan a day out in the Park? While you can throw down a rug anywhere, hiring one of our hard-top picnic shelters guarantees room for the whole family.
Each shelter has a tin roof, power supply and three picnic benches which seat eight people each.
Barbeques are conveniently located near each of these shelters (please note that these are not available for exclusive use, with the exception of those in Pia's Place). You will require $1.00 coins to operate these barbeques.

Shelters X1 and Y2 are larger shelters for those who need additional space.
---
| AREA | SHELTERS |
| --- | --- |
| Village East | F, G1, G2, J1, J2 |
| Village West | A, B1, B2, C, D1, D2, E1, E2, K, L |
| Mussel Pool East | P1, P2, R, S, T, U, V |
| Mussel Pool West | Q1, Q2, W, X1, X2, Y1, Y2, Z |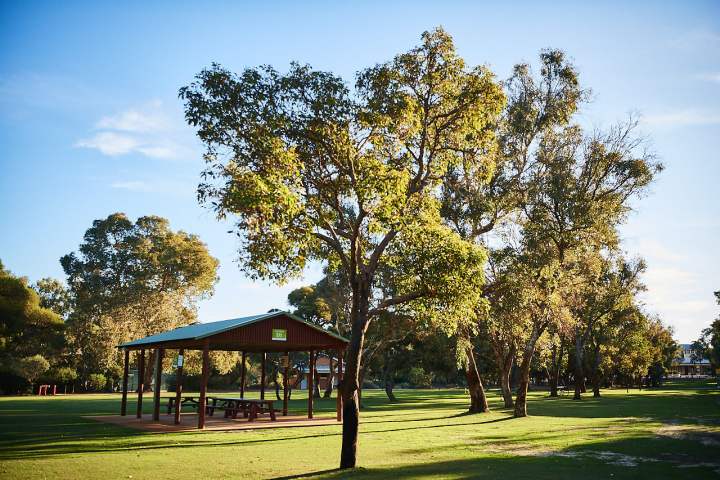 All shelters, with the exception of Shelters P1 and P2, cost $95.00 per day to hire.
The two shelters in Pia's Place, Shelters P1 and P2, cost $150.00 per day to hire which includes exclusive use of the attached barbeques.
Read the full Terms and Conditions here.
Please note, your credit card statement will show as 'WESTERN AUSTRALIAN PLANNING COMMISSION'.
---


Large Group Bookings

Whether you are looking to hold your wedding, corporate function, family fun day or Club wind-up, our bushland environment provides a unique setting in which to entertain your guests.
The Park welcomes groups of any size and offers a range of activities and facilities that can be booked if required. Please speak to our Bookings Office for detailed costings.