Where happiness is possible for everyone
The Healing Place is a space for the community; it embodies a place to achieve happiness through healing – both on a personal and community level.
Representing the most basic form of shelter and safety used by people all over the world, that which is provided by nature, the Healing Place is formed by native leaves etched with floral artworks representative of the flowers, leaves and fruits found in the Park.
At the opening of the shelter, you will find hand prints – provided by members of the community and those closely involved in the project – that are open and welcoming to all.
Its circular shape and seating arrangement allow for everyone to be seen, heard, respected and appreciated as equals within the community.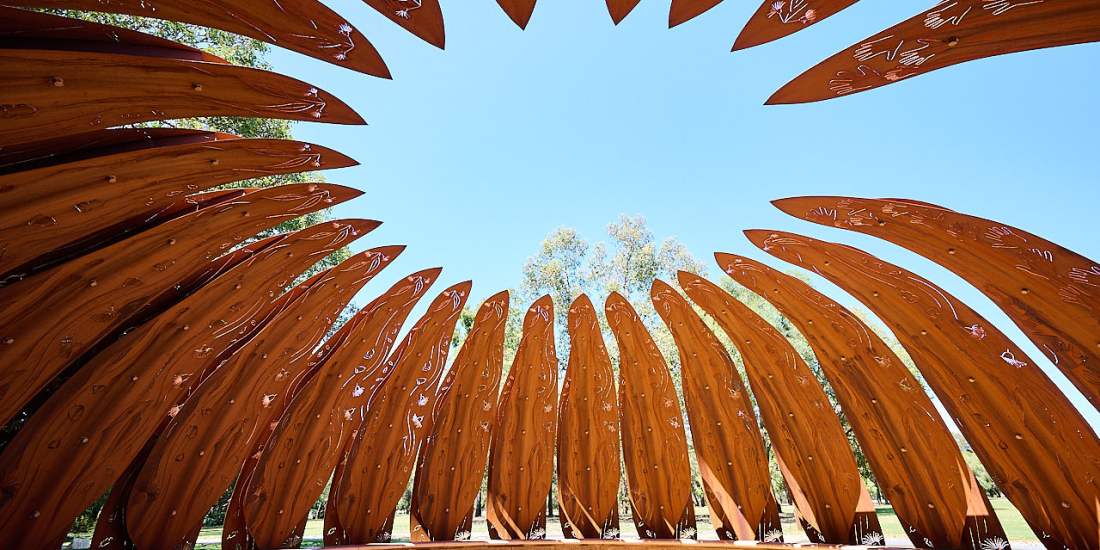 Leading to the shelter is a path to happiness, whose design represents the local waterways and landforms that were created by the Wagyl during the Dreamtime. Along the pathway, you will encounter four pillars to happiness – storytelling, purpose, belonging and transcendence.
Storytelling is freely sharing our experiences, thoughts and feelings with others. It allows us to learn other's stories and understand our own.
Understanding your self-worth and using your strengths to help others, purpose provides a reason to live and embrace life fully.
Belonging is being valued ourselves, and valuing others, for who we intrinsically are. It allows us to form bonds and friendships despite any perceived differences and belong within our communities.
Knowing that we are all here to support and encourage one another, transcendence is being connected to a higher reality and accepting problems have solutions.
We invite you to sit.

To take a moment to contemplate what happiness is to you and to reflect on these four pillars.
To find the space to heal under the open sky and shelter provided by nature.
---
Whiteman Park thanks local Whadjuk, Ballardong, Arrernte artist Jade Dolman for her work on this project.