Visitor Information


Time

Price
Entry to Caversham $14 - $30pp

Location
Spring into Whiteman Park to meet some of our most iconic wildlife!
To celebrate the onset of Spring in Whiteman Park, we're giving away Nocturnal Woylie Walk vouchers to families who visit Caversham Wildlife Park!
You'll get to see some of our most iconic Australian wildlife up close - hand-feeding kangaroos, patting a koala or watching penguins. Plus don't miss the Farm Show or Wombat & Friends Show!
Then redeem your voucher to also see the quenda and critically endangered woylie at your feet on one of Whiteman Park's woylie walks!

the deal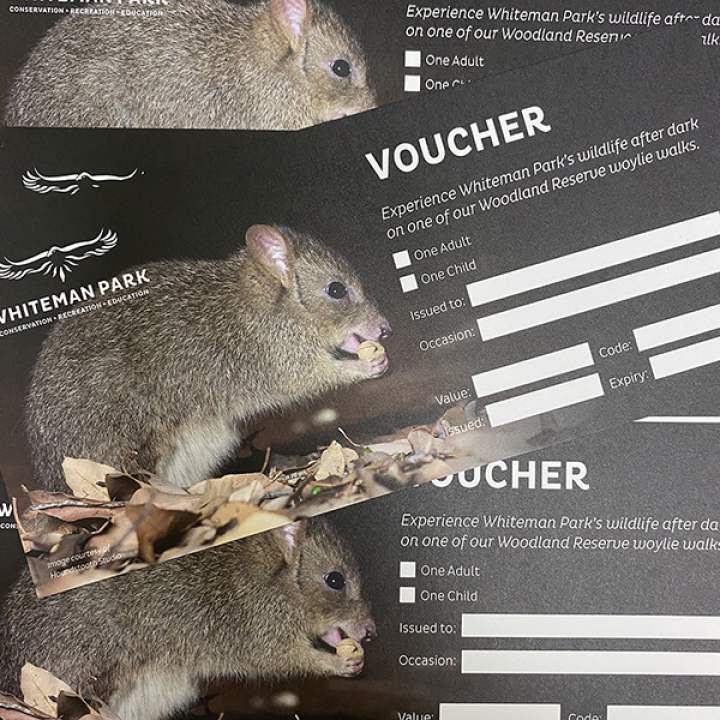 Visit Caversham Wildlife Park as a group of four (eg. two adults + two children) from Thursday 10 to Sunday 20 September, to receive a Woylie Walk voucher that is valid for six (6) months.

This is fantastic saving for anyone who is keen to do one of our Nocturnal Woylie Walks, with the voucher valued at $35.00! Just be sure to book in early as these tours have limited availability and will sell out.
---
TERMS & CONDITIONS

To qualify for a voucher, four entry tickets must be purchased from Caversham Wildlife Park during the qualifying period, 10/09/20 - 20/09/20.
The Woylie Walk voucher is valid for six (6) months from the date of issue, and is valued at $35.00. This allows for one adult and one child to attend a Nocturnal Woylie Walk, or for $35.00 to be deducted from the total of either the Nocturnal Woylie Walk or Kids Woylie Walk admission.
To secure your place on either our Nocturnal Woylie Walks and Kids Woylie Walks, bookings must be made in advance, as tours do book out.