How to host the best birthday parties at Whiteman Park
2 October 2020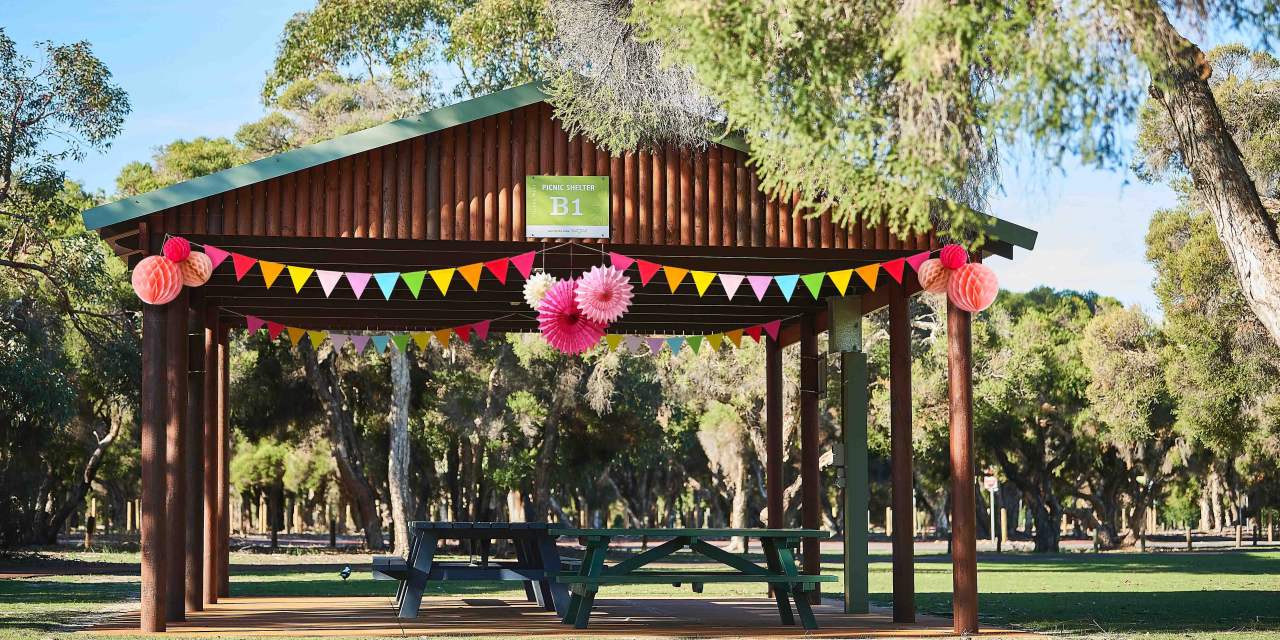 Whiteman Park makes an ideal location for your kids next birthday party.
With acres of space for them to run around, two playgrounds, Pia's Place nature play space, the Children's Forest and so much more, there is no shortage of activities to keep the hoards amused!
We've compiled a few tip and tricks to help you plan the best possible birthday party for your little one at Whiteman Park.
Tip #1 – Book early!

Also known as 'Party Planning 101', it is important to ensure you have the venue sorted before going any further. Some of our shelters, such as those in and around Pia's Place, or the shelters alongside the Mini Water Playground, can book out as early as three to four months in advance, so planning is key! Some great shelter options for a kid's birthday party include:
You can also book Bennett Brook Railway's Party Coach for an authentic train themed party celebration (we're looking at all those little Thomas the Tank Engine fans!).
Tip #2 – Considerate decorations
As a conservation reserve and home to over 150 bird and animal species, we think its important that we all do our bit to reduce our impact on the natural environment, even when we're celebrating another trip around the sun!
From January 1st, 2021, balloons, glitter and plastic confetti aren't permitted at Whiteman Park, but that doesn't mean you can't decorate your shelter like a pro. Paper streamers, tissue paper pom poms and bunting are all fantastic decoration ideas that aren't going to harm any of the Park's resident wildlife.
Another great sustainable option is to find a local Borrow and Share Bunting Library or Boomerang Bunting group (try the Greenwood/Warwick group).
Tip #3 – Added entertainment
If all the playgrounds, open space, train rides and more aren't enough to keep the kids entertained, we're pleased to welcome your favourite entertainers along to the party!
Face painters, fairies and magicians are a great addition for kids birthday celebrations and can easily be accommodated at all of our shelters. Or get in touch with Pedal Play to discuss their birthday party packages and let the kids have fun racing around the Park in pedal-powered go-karts. Another great option is hiring some picnic games such as giant jenga, coights toss, skittles and more.

Of course, grabbing some activity sheets and exploring the Children's Forest is a great inexpensive nature-themed party activity – and if the kids are lucky, they might spot some of the resident wildlife such as quenda and kaarda (racehorse goanna) for a bonus treat!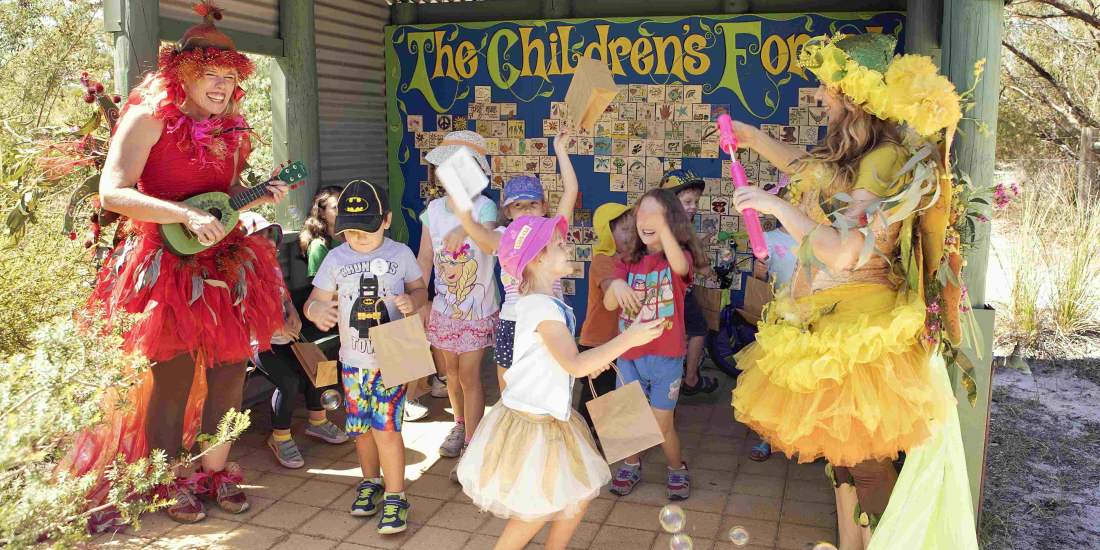 Kids love a sausage sizzle too, and with plenty of barbeques located within a short distance of each of our shelters, it's a convenient way to feed the masses (just remember to bring your $1.00 coins, or exchange some at the Visitor Information Centre).

Don't forget the adults either – a fancy cheese platter (stored on ice for transport of course!) is a great option to tame their hunger while the kids play! Just be sure to tip the ice out onto mulched garden beds when you're done, as ice and grass don't get along.

For more picnic preparation ideas check out our How to create the perfect picnic blog!
Tip #5 – Minimising waste

Disposable plastic cups and plates aren't really our game, so plan your party fare to minimise the need for plates and cutlery. If these are needed though, we recommend checking out some of the great compostable options that are out there now, such as plates made from pressed palm leaves, wooden cutlery and paper straws. These will all break down in the environment and many of them could be taken home to add to your own home compost bins!
If you're hosting a kids birthday party and want to keep the age-old tradition of giving party bags to your small guests, we recommend checking out this list of sustainable party bag ideas from Planet Ark! We can even help out with idea number two with some Whiteman Park-themed colour in pages on our Kids Stuff page.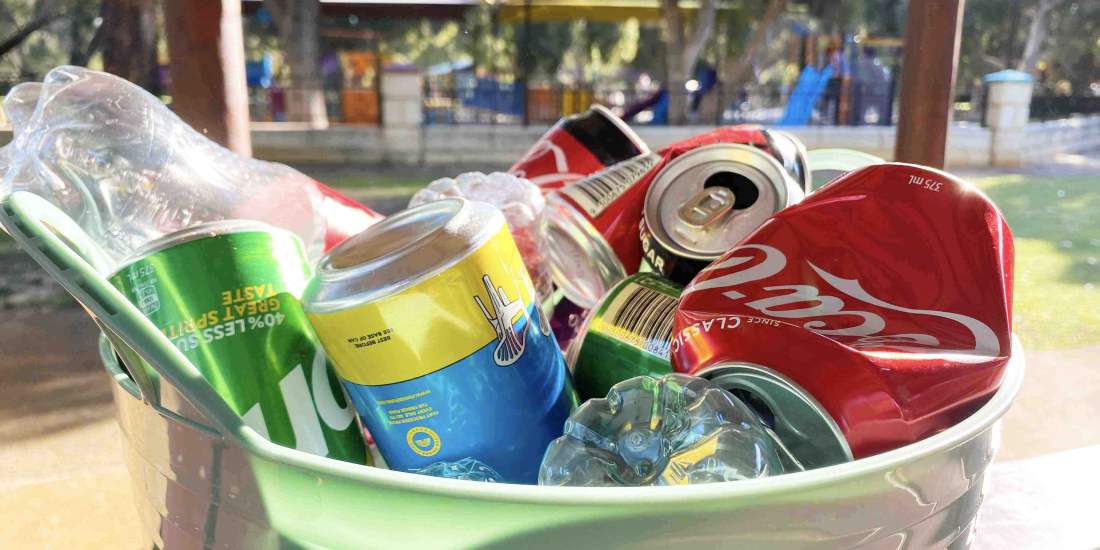 Don't forget your recyclables! Now that Western Australia has the new Cash for Containers scheme in place, make sure to collect all those empty drink bottles (lids off and empty, of course!), ready for recycling.
A flexi tub or cardboard box works wonderfully for this purpose - no plastic bags required!
Tip #6 – Caffeinate!

Ok, everything is sorted and its party time! If you're in need of a caffeine fix to get through it though, mums and dads can grab a coffee to go from either the Village Café or Guerrilla Hub kiosk!
To make party life really easy, the Café also offers catering, so you can always leave it all up to them. Visit their website to check out their kid's party and BBQ catering menus. 😉
Last updated 23 June 2023
---