Over 100 bird species either inhabit or visit the Park and are recognized as having their range or breeding ground within the Park grounds.
Wedge-tailed eagle
The most iconic species found at Whiteman Park is the wedge-tailed eagle (Aquila audax), from which the Park takes its logo.
Known as the waalitj to the local Noongar people, there has been a nesting pair at Whiteman Park for decades, but two nesting pairs were first recorded in 2016 and both have remained in the Park since.
The wedge-tailed eagle has an amazing wingspan of over two metres!
In total, twelve birds of prey species have been surveyed in the Park.

---
Black cockatoos

Foraging habitat for the increasingly rare three black cockatoo species is found in Whiteman Park's woodlands. Lucky visitors may spot (or likely hear!) these beauties tucking into the fruit of the Park's eucalypt and proteaceous species.
The endangered Baudin's black cockatoo (Calyptorhynchus baudinii) and vulnerable forest red-tailed black cockatoo (Calyptorhynchus banksii) are the most frequent visitors, while the Carnaby's balck cockatoo (Calyptorhynchus latirostris) are seen occasionally.

Images below:
(L-R) Forest red-tailed black cockatoo, Calyptorhynchus banksii; Baudin's black cockatoo, Calyptorhynchus baudinii.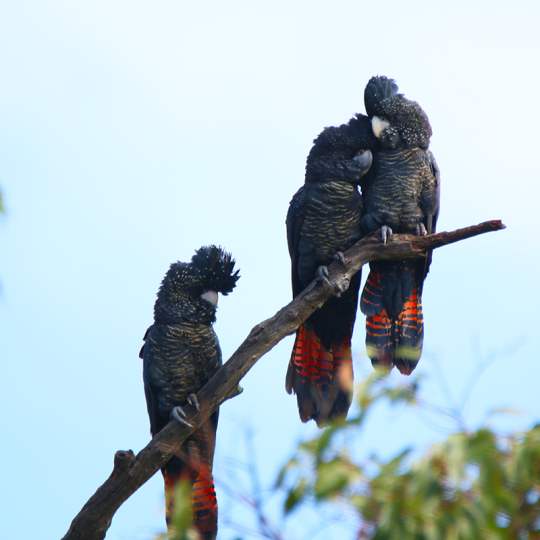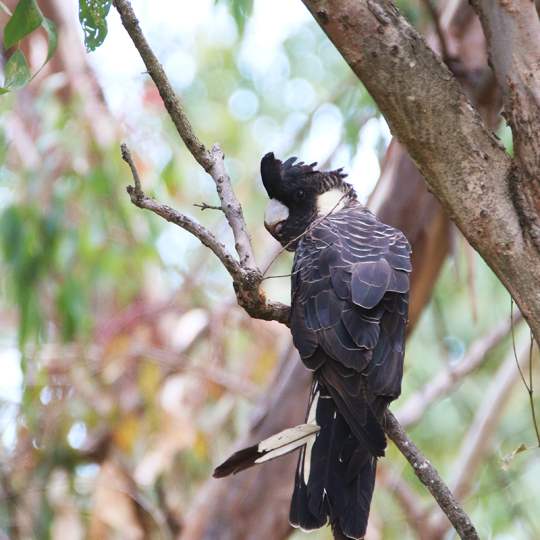 Bush-stone curlew
The bush-stone curlew (Burhinus grallarius) was successfully reintroduced into the Park in August 2013, with upwards of ten chicks successfully reared to adulthood since then.
Despite being nocturnal, they can often be seen in the Village area, with the birds nesting on open ground on the hill behind the Motor Museum, near the Tractor Museum and in the Link Road paddocks.
If you're in the Park late in the afternoon or close to dusk in winter, you won't mistake their distinctively eerie wailing call!
---
---
Water birds

Numerous water birds are attracted on an annual basis to court and breed at Horse Swamp, providing an ideal metropolitan location for birdwatchers to experience their ecology firsthand.
A total of 29 wetland species have been recorded in the Park, from a nesting pair of black swans (Cygnus atratus) that return year-on-year, to the more common Australia white ibis (Threkskiornis moluccus).
Grebes, lapwings, egrets and six different duck species can be seen during the wetter months, with a bird hide and lookout adjacent to the swamp providing a sheltered spot for novice and professional birders alike.
Images:
(L-R) Black swans, Cygnus atratus; Purple swamphen, Porphyrio porphyrio; Grey tea, Anas gracilis; White-faced heron, Egretta novaehollandiae.